30 October 2023
Mr A. Siddiqui
Last updated on November 10, 2023
Exercise is an essential part of a healthy lifestyle and has many benefits for your body and mind. If you have recently had a breast augmentation, you may be wondering if it's safe to start exercising again and if there are any special considerations you should be aware of.
This guide will help you learn the best ways to safely and effectively exercise after breast augmentation surgery to ensure you get the most out of your workouts. You'll learn what types of exercises to focus on, which ones to avoid, and how to adjust your routine if needed. With the right information, you'll be able to get back to your active lifestyle, feeling confident and strong.
The benefits of exercise post breast augmentation
Exercise is a great way to help you look and feel your best after your breast surgery. There are a myriad of benefits to exercising, including:
Increase your energy levels
Improve your sleep
Boost your mood
Increase your strength
Improve your fitness
Helps to lose or maintain a healthy weight.
In addition, exercising after breast augmentation surgery can help with any mental health challenges you may be experiencing, such as stress or anxiety.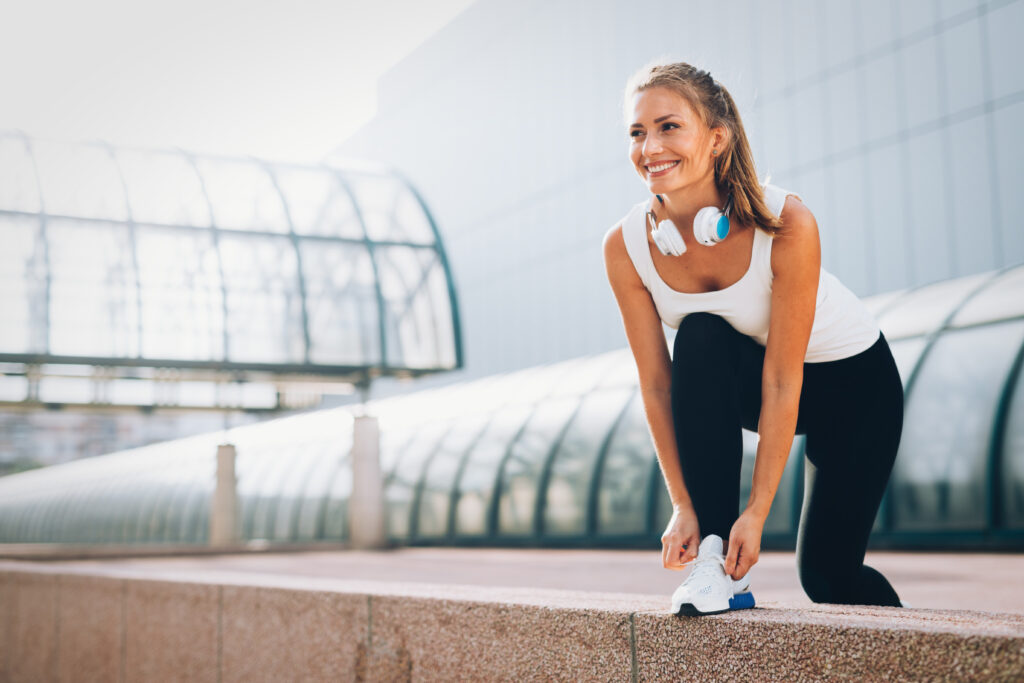 Exercise helps you look and feel your best. It is essential that you follow the advice of your surgeon so you can get back to exercising safely and without compromising your new breast augmentation.
How to safely start exercising after breast surgery
When you're ready to get back into your exercise routine, it's important to get clearance from your surgeon, wear an appropriate bra, and take it slow. This is essential to avoid injury or harming your surgical wounds. You may also need to make adjustments to how you approach exercise and the types of exercises you are performing until you are fully healed. After that, your breast implants will not stop you from your regular exercise routine.
Clear it with your surgeon
It is important to get the go-ahead from your surgeon before you return to exercising. Breast implants are inserted either above or below the pectoral muscles (your chest muscles), and this tissue needs time to heal before you exert them. Your doctor will recommend you avoid lifting anything heavy or exercising during the immediate recovery period to give your body time to heal and recover.
Once given clearance to return to exercise, your surgeon will recommend modifications and types of exercises that reduce the risk of injury so you can work out safely.
Choose the right bra
Post-surgery, you will be provided with a supportive bra that aids recovery and reduces pain and inflammation. When you participate in light exercise, this surgical bra is fine to wear. However, once you start increasing the level of exercise, you may need to invest in a proper sports bra.
It is best to discuss your bra needs with your surgeons so they can guide you to the correct style and bra size for your new, larger breasts.
When to start exercising after breast augmentation surgery
The recovery time post-breast surgery can be frustrating and stressful if you can't exercise. Your surgeon will provide advice and recommendations for what exercise you can do and when based on your individual circumstances. Having a plan to start exercising helps lessen those negative feelings.
For the first few weeks immediately after your surgery, it is important to focus on healing and resting. This does not mean you should stay in bed the whole time; it is essential that you still move, even if it's to slowly walk around your home. This movement helps your blood circulation (blood flow) and reduces the risk of blood clots post-surgery.
Once your surgeon has given you the all-clear to exercise, make sure you start off slowly. Breast surgery usually involves a lengthy recovery time. The tissues and muscles need to heal around your new breast implants before you can do upper-body exercises or lift weights. Starting off with lower body exercises such as squats, yoga (avoid any poses that require you to hold your body weight with your arms), or using an exercise bike are great ways to be more active without causing any harm.
Low-impact exercises, light cardio, and lower-body workouts (like squats) are ideal during your recovery period. You should avoid heavy weights and high-impact exercises for at least 6 weeks post-surgery.
A week-by-week guide to exercise post breast surgery
This guide provides ideas of what exercises you can do during the weeks following your breast surgery, whether that's a breast reduction, breast reconstruction, or breast implants. This timeline is an approximation only. Your surgeon will give you the best advice for your individual circumstances and recovery, so always follow their recommendations.
Week 1 and 2 after surgery
During the first few weeks, exercise is focused on helping you heal and recover. You will need to rest and only take on light activities, such as slow walks or gentle stretches, to prevent your shoulder muscles or chest from becoming stiff.
Slow walks
Exercise bike (only light and slow)
Shoulder shrugs
Shoulder rolls
Should raises
Arm circles and swings
Body rotations
It is important in these first few weeks that you don't lift anything heavy and don't raise your arms above shoulder height.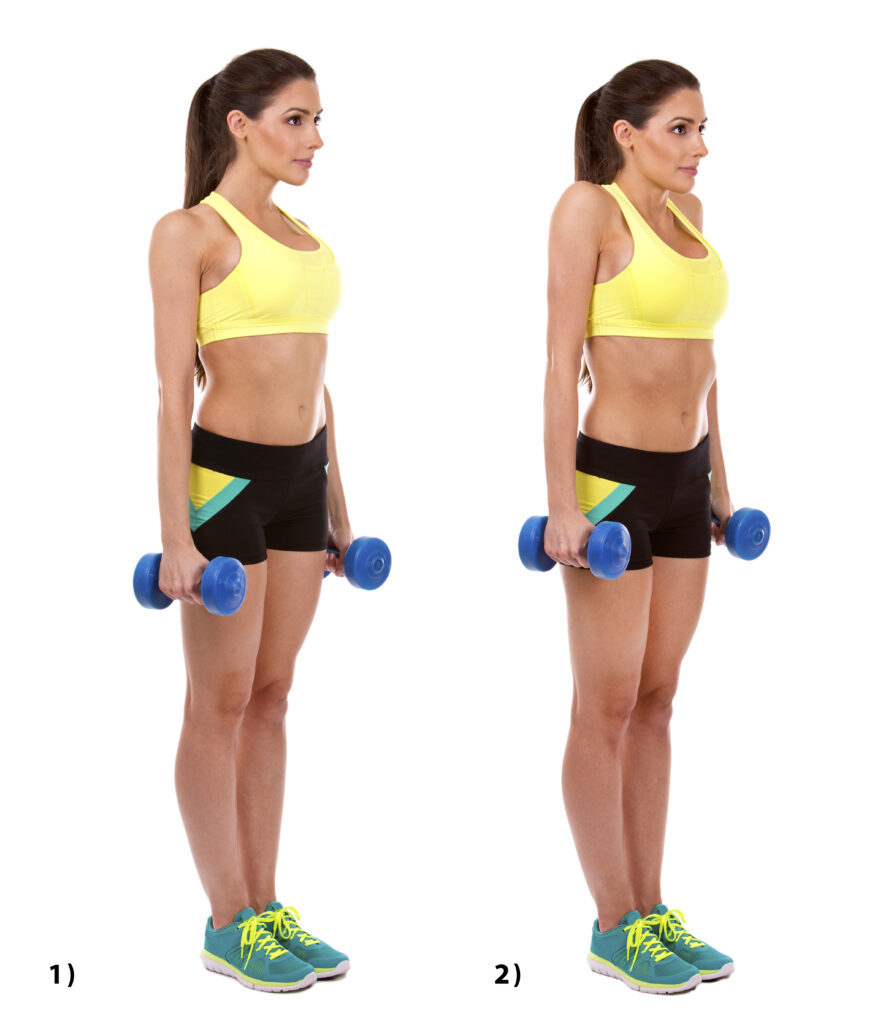 Light exercises help reduce the risk of blood clots and keep your muscles limber. A shoulder shrug (without weights initially) helps to loosen your shoulders post-surgery. Simply stand up tall, keep your elbows slightly bent, and lift your shoulders upwards before dropping them down to the starting position. It feels like you are sliding your shoulder blades up and down.
Week 3 and 4 after surgery
You can start to add in more exercises, being mindful to listen to your body and rest when needed. Be sure to discuss any of these with your surgeon so they can give you the all-clear or provide further advice about appropriate activities.
Continue with light cardio, short walks and stationary bikes, but can increase your pace.
Arm lifts
Walk your fingers up the wall facing straight on, and then standing sideways.
Beach pose
Chest stretch
Lower body exercises like squats.
Week 5 and 6 after surgery
You are well on your way to recovery now, but your muscles and tissues still won't be fully healed. You can build on the exercises above by increasing the pace and length of your walks. You should still avoid:
Heavy lifting,
Chest exercises,
Body weight exercises like push-ups,
Weight training,
Strenuous arm workouts.
After 6 weeks
Six weeks post-breast reduction, breast reconstruction, or breast implant, you will have a follow-up appointment to discuss any concerns and assess your healing. If all is going well, you should be able to return to most normal activities with the advice of your surgeon.
You can read more about other breast surgeries here:
Safely returning to exercise post-breast augmentation is easy, if you follow these tips!
Exercise can be a great way to improve your health, confidence, and self-esteem after breast augmentation. It's important to remember that everyone is different, and it may take time to build up your pec muscles and strength once more. Starting off slowly, listening to your body, and following the advice of your surgeon will ensure you can get back to your normal fitness routine after a breast augmentation.
If you are not sure of anything, the friendly team at Breast & Body Clinic, UK, is here to help answer your questions and guide you through this journey.
FAQs
You can find the most commonly asked questions about exercise and breast augmentation below.
What happens if you exercise too soon after breast augmentation?
A breast reconstruction to enhance your bust places breast implants under or over your pectoral muscles and tissues. These muscles and tissues need time to heal and form scar tissue before you exercise; otherwise, you risk your breast implant shifting, resulting in an asymmetrical or unnatural breast shape. Exercise may also increase bruising, swelling, and pain.
What exercises should I avoid after breast augmentation?
Exercises to avoid after breast augmentation primarily come down to any exercises that require lying down on your back after surgery. Jumping or jarring activities should also be avoided. This includes activities like basketball, tennis, and soccer. Also avoid running, jogging, and horseback riding for 3 months post-breast augmentation.
Are there exercises that will naturally increase breast size?
There are no exercises that can naturally increase bust size. Breasts are composed of glandular tissue, fat, and connective tissue, and their size is determined primarily by genetics and hormones. While certain exercises may help strengthen the muscles beneath the breasts, this doesn't increase or change the size of your breasts.
Is it possible to enlarge your breasts without surgery?
No, it is not possible to enlarge your breasts without surgery. However, there are several different surgical options, ranging from minimally invasive to major surgery, to enhance your bust:
Breast augmentation with implants
Breast lift
Fat transfer augmentation
When can I start lifting weights again after a breast enlargement surgery?
It is important to wait until you have fully healed from breast enlargement surgery before resuming weightlifting or other strenuous activities. Your surgeon will provide specific instructions based on your individual situation, but typically you should avoid lifting anything heavier than a few pounds for at least several weeks after surgery to allow the breast tissue to heal properly.